I'm sitting here listening to this pissening soundtrack by Avenged Sevenfold.  What a BADASS fucking Best MetalCore band.
Okay Turn This Shit On and Listen While You Read The Rest of The Post
I Remember hearing the guitar technique "sweep picking" during the solo of the song Bat Country on their album City of Evil back in 2007 and having my mind fucking melted.  Although these guys suck live, their studio creations are really masterpieces.  Especially that first album City of Evil.
Right Now i'm listening to the song "Betrayed" Which opens with this raunchy badass as fuck guitar riff crawling up the fretboard of Syn Gates Guitar, shit always gets me pumped instantly.
I've always been attracted to and turned on by the sounds of electric guitar.
I think as a man the ELECTRIC GUITAR can give voice to many of the hormonally driven emotions I feel.  Like the wide wailing out of control vibrato during a searing hot guitar solo and the or the percussive shredding of the guitar pick slicing across the strings at lightning speed during a sick as fuck alternate picking shred run up and down a scale.
FUCK! makes me so motivated and makes me feel so ALIVE.  That's what i want to feel when I listen to music I want to feel like I am living.  Feeling and experiencing the emotions that make me a human.
Back to A7X, listening to the song The Wicked End now with the Rev's SICK
double bass drumming beating away.  Song starts out with that thumping baseline that is almost scary and breaks into a creepy duel guitar harmony.  I'm just sitting here in anticipation of the sick sweep picking I know Syn Gates is going to throw down in a couple minutes here. So many good songs on this album, Does anybody remember these?
THE BEAST AND THE HARLOT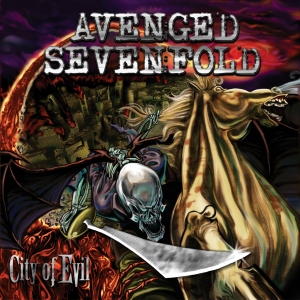 SIEZE THE DAY
BURN IT DOWN
BLINDED IN CHAINS
MIA
+Bonus Song from Waking the Fallen – CHAPTER FOUR and lastly SCREAM
Easily Best MetalCore Band
Can Download This Legendary Shit at Amazon ->http://amzn.to/1ncHGUH