Escape The Fate – Dying Is Your Latest Fashion
Yeah go ahead and call it gay.  I know it's gay as fuck but you could say a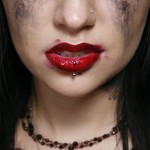 guilty pleasure I sometimes indulge in is HEAVY HARDCORE EMO SCREAM SCREECHING AND WAILING FUCKING WALL OF SOUND GUITAR.
Escape the Fate Isn't good at all now because they no longer have Ronnie Radke Singing (Who Fucks So Many Kardashian Lookalike Hollywood Sluts By
The Way). Dude is a pimp, has longevity, is well liked and a phenomenal musician primarily because he is unapologetically himself.  He may be sensitive and a bit of a fruit but the dude has one of the heaviest growls and sickest ink covering his whole body.  His Singing brings PASSION to this band Escape The Fate.
Why do we listen to music? So That WE CAN FEEL PASSION.  We want to experience being alive.  Thinking back on my life by FAR my strongest memories have been the concerts i've gone to.  I Shit you not.  Rock and Metal concerts are the most memorable experiences of my life and I make a point to go to them because i've recognised the importance these events have to my mental landscape of the human experience.
Dying Is Your Latest Fashion begins with the track "There's no sympathy for
the dead" Which immediately breaks the silence which stressfully distorted guitar that seems to tear holes like cat's claws in the darkness.  Pumping you up with punchy guitar rhythms from the band's surprisingly talented guitarists and is wrapped up with a shred guitar solo to prepare your for what's next.
Tracks Like "My Apocalypse" and "The Guillotine" carry the album along with crunchy inward turning thought that I could talk about for hours but I must save that time to talk about the 2 Epic songs this album is known for and if you listen to, it will bring you back to 2006.
"Not Good Enough For The Truth In Cliche'"
"Sitting in this room playing russian roulette, finger on the trigger to my dear juliet" Goddamm such a sick pissening hard rock song hear.  I'm not going to say anything.  Just fucking listen to it.  It's the shit.
So For Now, Take This Down A Notch, Crash My Car Through Your WIIIIIINDOOOOOOW!
Lastly There is the legendary "Situations" Goddamm these sing along tracks.  "Situations!! are irrelevant now! She touched my! ohh! I touched her! aww! It was the craziest thing!"
Situations Linked Below:
https://www.youtube.com/watch?v=8_TeVbHXxjY
Goddamm and the fucking diminished sweep picking run that their little creepy guitarist just fucking machine guns off to end the final chorus.  This song encompasses a lot of emotions is rock and roll and is just plain old fun!!! everyone loves singing to this one and it pumps you up like fuck lol
Escape The Fate's 1st Album Dying Is Your Latest Fashion Is available at the Amazon link –> http://amzn.to/1ZuR69y