Leather Boots and Jeans + Any Shirt = Looking Like a Boss
When I was 23 I was sick of not having any idea of how to dress.  I knew some guys dressed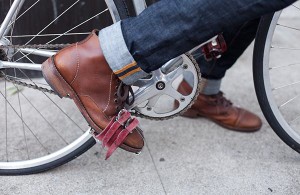 cool, but I didn't know how to emulate and reproduce those looks without looking like a gay try hard or a fuckin' weirdo.  Then after much perusing the internet and experimenting buying and selling clothes on EBAY, I came up with a theory that would even baffle the intelligence of the mighty Pythagorus.
Leather Boots and Jeans + Any Shirt = Looking Like a Boss
That's the magic formula.
You start your way from the base, and you work your way up.
The First Thing you get is the Boots and Then you get the jeans.  Both have to be Highest Quality and Optimal Fit.  If you do this right, pretty much any shirt will look good.  The bottom half of your style will be so on point, and you'll be getting compliments from women like "You have really nice style."
Boots
You always start a great building with a foundation.  With getting dressed this is the most important part of the outfit.  Sneakers and jeans looks like shit BTW.  You need leather boots.  Preferably hand made.  Girls will notice these and compliment you.  You are going to have to spend a couple hundred bucks to get some good ones.  But when you literally have girls getting wet over them when they see you walk by or start talking to you, it's worth the investment.  Not only that but how much more seriously the world in general will take you when you have expensive shoes on.  They mean business. If you do anything to improve your fashion/appearance.  Getting the shoes will take you the farthest, if you could only get one thing.  The boots I have worn for the past 2 years have been the Wolverine 1000 Mile Boots.  I wear them almost everyday.  They are ridiculously comfortable and ridiculously good looking.  They have a ton more left in them after about 700 wears now.  I get compliments on them all the time and consider them to be one of the best buys i've made in the last few years.
Jeans
Jeans are so important because they are the most versatile piece of clothing you can wear.  You
need Dark Blue Jeans.  I buy Selvedge (Self Edge Seam) Jeans.  These jeans are the highest quality denim and the more you wear them, the cooler looking they get.  They age beautifully.  You want Jeans with a nice taper on the ankle so that it just lies over the top of your boot.  I wear these Nudie Jeans.  These jeans are excellent and have a tiny bit of elastic for stretch in them.  Perfect for my bodybuilder legs.  They are "Raw" that means after they were dyed, the material was left untreated.  Only wash them like once every month or three (some people wait 1 year to wash them) and your pants with take on the sickest fades, in areas there was more wear and tear than others.  They are available on Amazon <–Link
Style is hard guys, especially when you are into lifting weights because then you've got big thighs and ass that don't fit into jeans.  This is a good style for bodybuilders though.  It will get you out of the gym clothes and into some clothes that you can go out and get pussy in.  You know to always look your best so you can be ready to put your right foot forward and take advantage of all the opportunities you can.