Nana Plaza
Nana Plaza is one of 3 infamous Bangkok Nightlife areas where you can have more cheap sex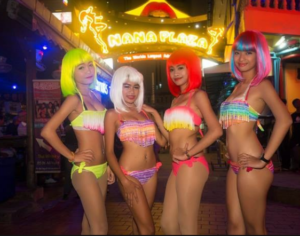 with beautiful women than you could ever imagine.
The experience of going to a place like Nana Plaza is something you won't be able to fully absorb until you actually do it.  We're talking multiple beautiful women calling at you "Handsome man!" and running over to pull on your arm and grab your cock through your pants to try and get you to come pay $50 to fuck them.
If you are from Western Civilization this experience is simply something you will have no concept of until you see it for yourself.  I sure as fuck didn't.  My first few days in Bangkok I obviously had to check this legendary place out and it was like being in a dream or something, it just didn't seem real.  Anyways, i'm not exaggerating when I say the girls are beautiful.  The girls available here are legitimate head turners that would have every man in the western world's head spinning around like a fucking pelican if she passed by walking down the sidewalk.
FYI – If you are looking to get a Thai Girlfriend or Have Sex With Thai Women for Free, Then Check Out My Article and Video on Using Online Dating in Thailand to Score Thai Girls Fast
Nana Plaza Location
Nana Plaza is located on Sukhumvit Soi 3/4 in Bangkok.  To get there it's best to just hop into a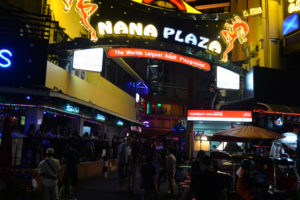 taxi and say "Nana Plaza Krub!" the taxi driver will know what to do and happily take you there.  He may even turn back to you while driving and say "Thai Lady Very Beautiful! Boom! Boom! Fuck?"  You can't make this shit up, it's hilarious.
The other way to get there is to take the BTS Skytrain in Bangkok to the "Nana" station.
Nana is a whole street, but the main section where all the action is happening is close to the Soi Nana/Sukhumvit Soi 3/4 Intersection and is Illuminated by a large sign with the text "Nana Plaza: World's Largest Adult Playground" …Hard to miss 😉
Nana Plaza Gogo Bars
Nana Plaza is completely comprised of gogo bars, so there is absolutely no shortage.  There are at least 60 gogo bars at nana.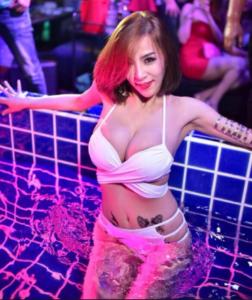 The 4 best Gogo Bars at Nana Plaza are:
Angel Witch – Super popular gogo bar with tons of girls inside, lots of different kinds of lesbian, soapy, and shower shows.  You'll never have to worry about having only a few girls dancing at a time here.  Try 20-30 girls dancing simultaneously minimum, with half of them probably naked.
Spanky's – Entertaining bar, I really like this one because i'm a fan of the "Isaan Look" which is north eastern thailand mixed with Laotian blood.  These girls usually have a bit more 'body' they've always got wide high cheek bones and a big sexy smile on their face.  These girls are the most fun to party with, they know how to get down.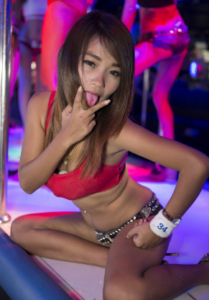 Candy Land – This bar has recently got a complete remodel and as a result attracted some very good looking thai women to start working their assets here.  There is lots of thai lady candy everywhere, if you have much of a sweet tooth you may lose control lol.
Rainbow 4 – This is the most popular and biggest bar at Nana Plaza with many many thai ladies.  I love coming here because there are so many sexy thai girls dancing at the same time.  It's like sexy asian girls overload haha.  At times you've got like 60-80 dancers at the same time with foam flying everywhere, asses and titties everywhere, and it's almost overwhelming but as long as i've had a few beers I can pretty much just relax into my seat and enjoy the chaos.
Conclusion
I honestly think every man and woman needs to come and experience a place like Nana Plaza.  It's just one of those places where it's so different than anything else you will ever experience, it's a complete phenomenon and you're never going to forget it.
Life's all about having those experiences that break up the monotony and routine of everything else you do.  If you are a tourist coming through Bangkok this is absolute MUST SEE.
-the bodybuilder in thailand