Soi Cowboy Bars & Go-Go
Soi Cowboy is the most popular spot in Bangkok for Western Men to find Thai Hookers for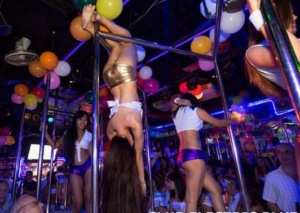 short-time sex and pole dancing shows and home to the infamous Red Light District Shown in the Movie "The Hangover Part 2".  Soi Cowboy Bars are located on a 200 meter long street filled with nothing but Beer and Go-Go Bars where all the girls working there are available to be bought for sex for around $60-$75USD.  Soi Cowboy is located about 200 meters from the BTS Asok Skytrain Terminal across the street from the large Fashion mall "Terminal 21" on Sukhumvit Rd.
Want To Get Laid in Thailand For Free? Then Read This Article
The 3 Red Light Districts in Bangkok to find Strippers and Thai Hookers working in clubs are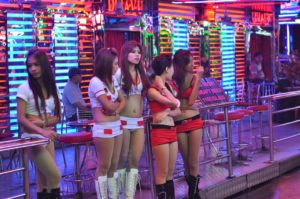 Patpong, Nana Plaza, and Soi Cowboy.  In my experience, the girls and atmosphere are the highest quality at Cowboy.
Soi Cowboy in Bangkok is geared towards western men.  When you arrive there you will notice that pretty much everyone except for the sexy thai girls everywhere is european.
Most all of the Thai Bar Girls speak english and are very sexy and friendly with their cute accents.
Soi Cowboy Girls
Like I mentioned earlier Soi Cowboy Girls are the hottest of the 3 red light districts in Bangkok.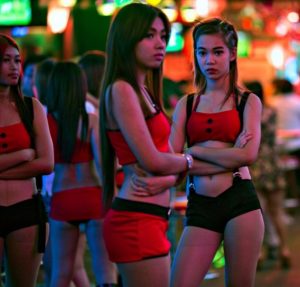 Most of them are from Isaan which is north eastern Thailand where they are Thai mixed with Laos genetics.  These girls usually have tan skin, long slender bones, and high wide cheek bones that make for an irresistible smile.
The quality of Thai Girls at Soi Cowboy Bars just seems to be the highest as well.  They look clean, healthy, don't look like smokers and usually don't have any prominent tattoos.
I was at the Soi Cowboy Go-Go Bar "Baccara"  with my Expat friend from New York recently and he commented to me that the amount of 9's and 10's (ratings of the girls looks) in the bars were so high that it reminded him of when he was a teenager and he would have traded his soul to be able to fuck these Soi Cowboy girls lol.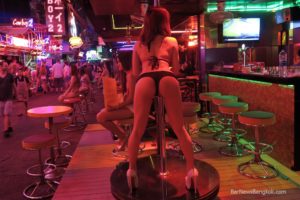 As far as personality goes, usually the girls at Soi Cowboy Bars are pretty cool, they will actually enjoy and want to come chill with you, just buy them a 150baht lady drink and they'll probably dance on your lap for the next 20 minutes and put your hands on their tits and shit.  I just don't get the impression of them wanting MONEY MONEY MONEY here.  It's generally more chill than that, and more of an atmosphere of just everybody partying.  Yes, the girls are on stage pole dancing, but they are also talking to and laughing with each other up there while they dance.  For me an important factor of enjoying "Gentleman's Entertainment" is the girls enjoying themselves and being relaxed, not too pushy for tips $.
Soi Cowboy Go-Go Bars
Crazy House – Well I mean it's already clear from my previous article that Crazy House is my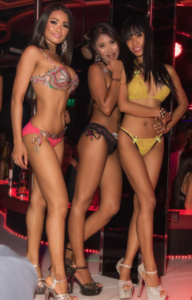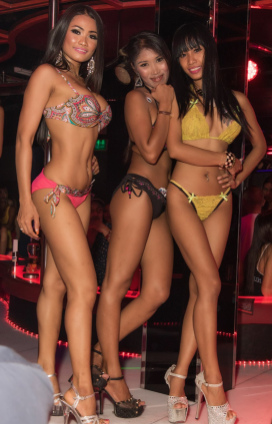 favorite Soi Cowboy Bars.  But Crazy House doesn't get good until around midnight when all the girls take off their underwear and dance pussy naked until 3am.  Overall though the girls here live true to the name of the venue, it truly is a wild fucking crazy house, and one of the most extraordinarily fun places to visit in Bangkok!
Baccara – Baccara is a great Go-Go bar located in the middle of cowboy.  They've got a sweet happy hour where all drinks are 90 baht and the girls here are incredibly sexy.  They have sets of about 15 girls who all pole dance at a time and then switch to the next group.  Each group wears themed clothing so first you get Angels, then you get Camo Army Girls, and later you get Nurse's hahaha. It's great!
Cowboy 2 – This place right in the center of the Soi.  It doesn't only have a huge number of girls but has some of the youngest and sexiest ones on the strip. Cowboy 2 is paradise if you like "fresh" girls and that means young age  and also that many of them have just recently started to work in the bar.
Shark Bar – Located next to Baccara, this is another Bangkok Go-Go Bar packed with some of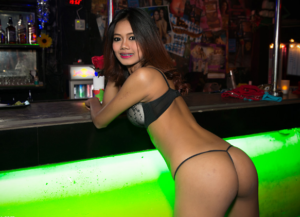 BKK's most sexy go go girls who wear some of the hottest outfits of the whole Soi.  Here similar to Baccara they have sets of girls wearing themed outfits who take turns dancing.  Some of the girls here have got big sexy asses that you wouldn't expect to see on asian girls, They look like light skinned latinas from behind…Score!!
Conclusion
Soi Cowboy Bars open at about 8pm and really starts popping around 11pm.  I prefer to get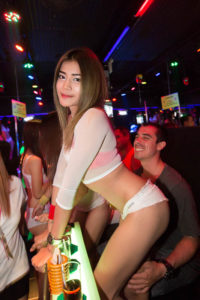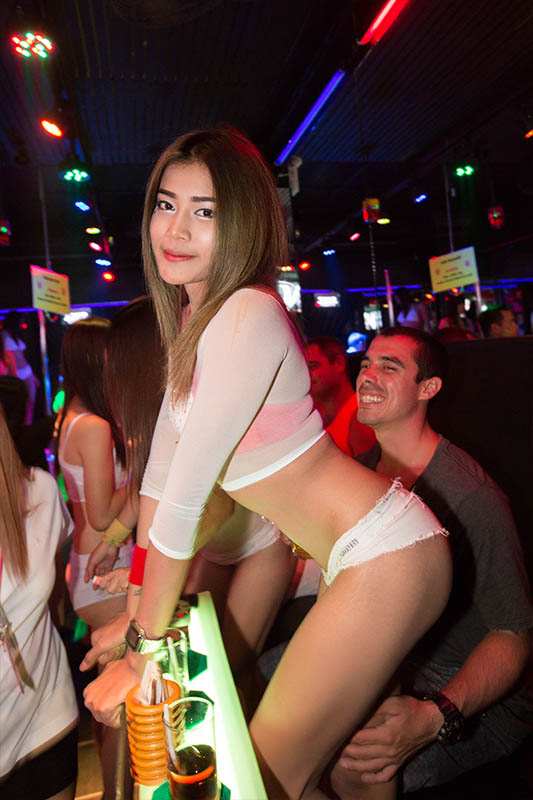 there later rather than sooner but that means you will miss out on happy hour.  There is no dress code, you can wear board shorts, tank top, and flip flops and no one will bat an eye.  If you are having difficulty deciding which bars to visit just walk up and down the Soi once and you'll have about 5 sexy thai girls pulling you by the arm in different directions and stroking your cock through your pants trying to get you into their bar lmao.
-the bodybuilder in thailand
ThaiFriendly – Online Dating in Thailand – How To Get Laid With Thai Girls For Free