How to Start a Fitness Blog or Bodybuilding Blog in 20 Minutes
20 minutes is how fast you can start your own blog and start changing your life and taking the right steps towards making a location independent income or simply having some extra pocket change.
Starting a Fitness Blog is fun!  You get to help people and talk about all the little tips and tricks you've learned in and out of the gym over the years.
You can say whatever you want without censorship, and discuss whatever you would like to, no matter how controversial.
Start a Fitness Blog will allow you to start on the path to being able to live wherever you want and make money from your bedroom, like I do.  (My "Office" is My MacBook Pro, Located 3 Feet From My Bed)
This is what it looks like when i'm writing articles for bodybuilderinthailand.com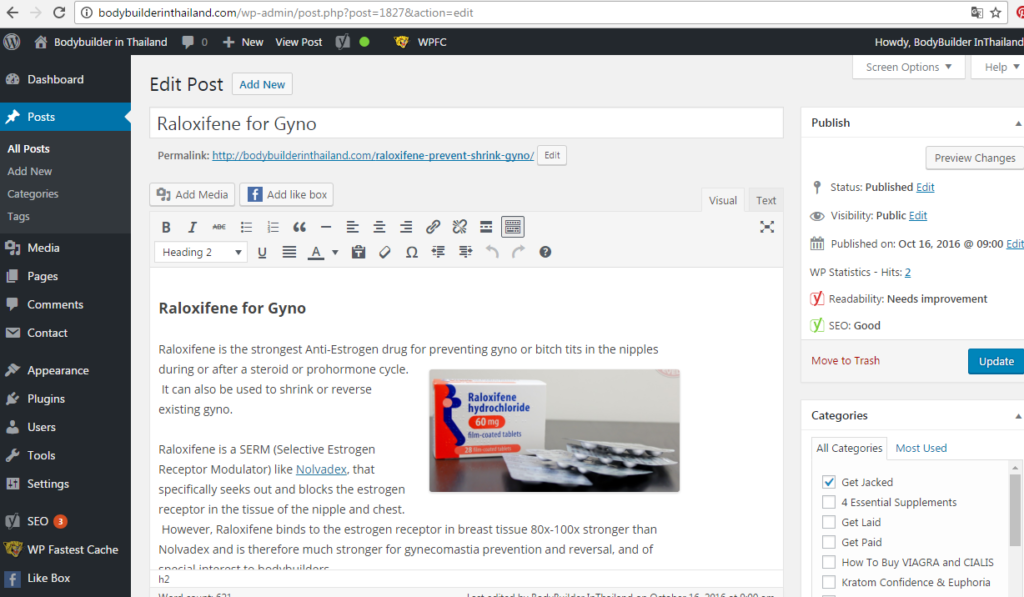 Writing the articles is similar to writing a document in a word processor, I easily can add images by clicking the "add media" button in the upper left corner and then uploading images straight to my site.  I don't have to write any code or anything like that.  Which is good because I don't know how to do any of that.  I just write my articles the same way i would write a report for school and basically drag and drop images to make it look nice.
I started BodybuilderinThailand.com for two purposes.
To share the Untold Truth about bodybuilding 
and 
To make money
On your blog you can talk about whatever you want.
It's your personal space on the Internet and you are the God of it.  
These days you don't need to be a tech genius or have a lot of money to blow, you just have to be willing to pay $3.95 a month for web hosting.  That's it, no hidden fees.
I won't lie… I enjoy that my opinions and experiences are read by thousands of people. It gives me motivation to keep on pumping out more insightful content that you might not find elsewhere on the web. Blogging is a very rewarding way to live and make money and I think more people should be doing it, so that's why I am showing you how to start your own Fitness Blog in 4 Easy Steps.
Follow these steps now and start your own blog!
4 simple steps to get your blog up and running in just 20 minutes
1. Choose your domain name
2. Getting Hosting
3. Install WordPress
4. Choose your theme
Now you are ready to start blogging!
Click Here To Go To BlueHost Web Hosting So You Can Follow Along
Step 1: Choosing your domain name
The first thing you have to do is choose a domain name. You can check to see if the domain is available in the screen below.

The name is important, but honestly… if you look at the most successful bloggers, you will notice that their names aren't that great. What sets these guys apart is their content and consistent posts. In blogging, content is king.
So go and try for a domain that you like.  BodybuilderinThailand.com was good because it's memorable and describes me.
Step 2: Getting Hosting
The next thing you need to do to start a fitness blog is get hosting. I recommend to use BlueHost; they are an affiliate of bodybuilderinthailand and they have the cheapest prices around, at $3.95 a month. I will be using BlueHost in the photo examples as I go through this step by step guide.
I would suggest the starter plan. It's honestly all you will need and it's what I use. It is also paid all at once instead of monthly. This will save you quiet a bit of money and, most importantly, you are not just making a half ass try at starting an independent income, you are literally investing in this idea.
I read a study a while back that in college sports, two players of the same ability were treated completely different. Why? Because one is a walk-on and the other was given a scholarship by the coach. When having to choose a starting spot between two players of similar skill, the coaches choose the scholarship athlete 99% of the time because they made an investment in him. Duh.
Investing is a deeply rooted psychological behavior and you can actually use it to help you achieve your goals. If you are serious about wanting an independent income you will need to invest psychologically, the starter will be the best choice.
Step 3: Installing WordPress
Once you are finished getting the hosting, it's time to get blogging software.
The first thing you must do is login to BlueHost and find the Website Builders section.
Select the first option: WordPress. It's what I use for BodybuilderinThailand and it's the best and most professional looking out there that's not called "hiring a professional to program it from scratch." It's also very simple to install and use.
On the next page click Install in the "Do it yourself (FREE)" section.
Click the "Check Domain" button.
Check the terms and conditions box and then click the "Install Now" button.
You will get a message saying "Your install is complete!". From there you should click on the "View Credentials" button and write down your Admin URL, Username, and Password. Later you can change these to something easy to remember, but for now you will need them to log in.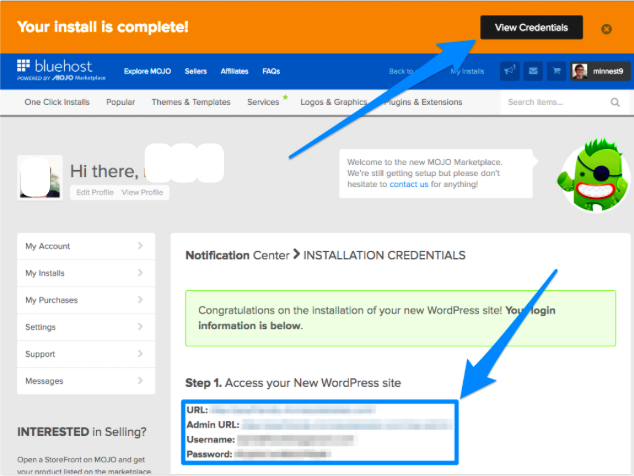 Next find your Admin URL and copy and paste it into your web browser. A login screen will pop up. Enter your username and password that you saved from before.
Step 4: Choosing your theme
You now officially have your own blog! All you have to do now is choose the right theme.  At BodybuilderinThailand i'm using a paid theme, but there are thousands of options and you can choose one that looks perfect for how you imagined your blog.  It will take you to a screen where you can see all the different themes in detail and you can just choose the one you like.
WHAM-O! You now have your own Fitness Blog and it's time to start writing.
It's easy to start a fitness blog.  It really boggles my head why more people aren't doing it.  You can make a good income from home and it's fun.  I think most people just don't know where to start.
start a fitness blog in 20 minutes