Thai Bar Girls
Thai bar girls can be fun to hang out with, they can also be a bit annoying if you just want to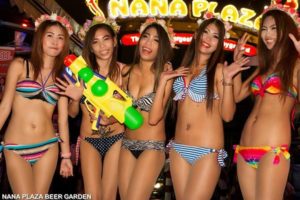 relax and chat with your mates and you've got a few girls hanging all over your table wanting to flirt with you guys asking you to buy them lady drinks.
Thai bar girls are girls that work at "Beer Bars" and GoGo Bars for "Hire" meaning they work at the bar and if you pay, you can have sex with them.
Thai Beer Bars and Thai Go Go Bars in Bangkok are generally Located around Soi Cowboy, Nana Plaza, and Patpong 2 Night Market.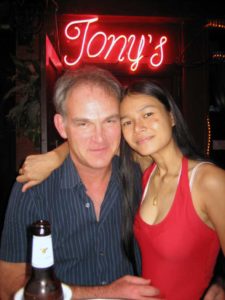 Some Thai Bar Girls are super attractive and others not so attractive, it really just depends on the bar, but all bar girls like to have fun, some of their favorite activities are playing Billiards, Drinking Cocktails, and Dancing on Tables Nude.  The way they behave is pretty similar to the way that girls in vietnamese coffee shops and strip clubs behave when they are trying to sell you lap dances.
Thai bar girls are generally pretty chill and are happy to hangout with you for an hour if you buy them a "lady drink" which costs about 200baht ($6USD) and they get a small commission.
Honestly, if you are a baby boomer or otherwise just looking for some young and beautiful company, this can be a fun and economical way to get it.  It's a lot cheaper than paying for a date and the girl is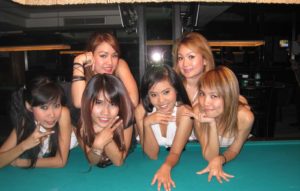 going to be flirting with you like crazy lol.
I always see guys from 45-60 years old hanging out in beer bars with thai bar girls hanging all over them hahaha sometimes several girls at the same time.  Sometimes my friends and I will remark that it looks like those guys are living the life.  Being a middle aged guy and just retiring in Thailand and having a bunch of young beautiful thai girls to hang out with for just a few bucks everyday.
Ok, so on to what you are most interested in,
Sex with Thai Bar Girls
Thai bar girls can be bought for sex.  Short time ( one cum shot and 1 hour room upstairs ) or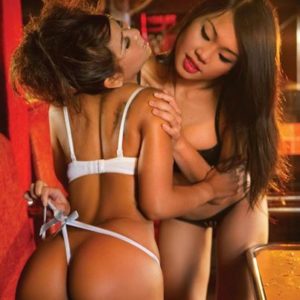 long time ( go home and stay at your place for the night ).
If you want to have sex with a thai bar girl you will need to first pay a "Bar Fine" which costs about 600-1000 baht depending on the bar.  Generally bar fines are 600baht.  Paying their bar fine is like paying the bar for them not working while they are with you, because you are essentially taking their staff lol.
As far as short/long time sex it's negotiable but the going rates are in the range of 1500-3000 baht ($50-$100) for short time sex, and 3000-5000 baht (100-150USD) for long time sex, which means they stay at your place for the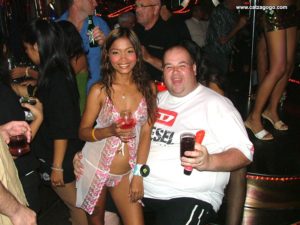 night.  This price includes Thai Go Go bar girls (strippers) as well thai beer bar girls.  Personally I think if you want to sexiest thai bar girls you should go to Go Go bars.  Some of the thai go go bar girls are so smoking hot it's ridiculous and it's why thailand is so famous for the sex industry.  I mean it's pretty unusual to be able to walk into a strip club and take a perfect 10 dancer home with you for 150USD.
Even if you are not interested in having sex with thai bar girls I still recommend checking this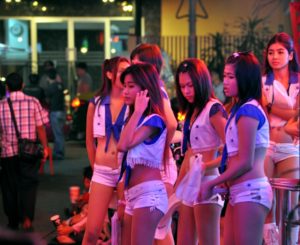 stuff out because it is a part of Thailand, it is interesting, and it's an experience you will never forget.  These kinds of images, the things you are exposed to, stick in your memory for a lifetime.
Personally, I like to spend my time on normal thai girls.  Some guys like to skip through the hassle of dating and just hook up with bar girls, and I don't blame them it's about the same price since you can skip the money that goes into dating and just skip straight to sex.
If you're looking to date normal Thai Girls or just check out the "Scene" with that check out my
article on Online Dating in Thailand, there are a lot of freakin' beautiful girls online who want to meet westerners.
We in the states are sometimes described as having "Yellow Fever" aka an affinity for Asian Girls.  Well, here the Thai Girls are sometimes described as having "Farang Fever" which means a deep attraction for western men.
My favorite Go Go Bar for Thai Bar Girls is Crazy House at Soi Cowboy.  The girls are all chill, dance completely naked 20-30 on tables at a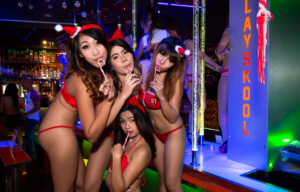 time, and the quality is A+ the girls are so hot every time I go.
Overall, Beer and Go Go Bars in Thailand are just fun places to go and hang out, watch sexy thai girls dancing naked, get drunk with your mates, and if you want also have some cheap sex with sexy thai women.
Have Fun,
-the bodybuilder in thailand
ThaiFriendly – Online Dating in Thailand – How To Get Laid With Thai Girls For Free