Thailand Visa Run
Hey Man What's Up?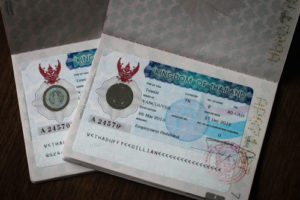 Part of being a foreigner in Thailand is doing Thailand visa run s.  I use a tourist Visa here, and i've been using it for one year now.  Once every couple or few months I have to go back and forth across the border because you can only stay in Thailand for an alloted amount of time before you have to leave and reenter.
This is one of the only pains in the ass of living here.
Thailand Tourist Visa
There are several types of tourist visas.  When I first came here I was on a triple entry tourist visa I had got from the Thai Embassy in the United States.  While I still lived in California I mailed my passport with a money order for like $150 to the Thai Embassy in Portland Oregon.  They then mailed my Passport back to me with a nice Thai Visa inside that said that I could stay in thailand 3 seperate entries of 60 days within the next 9 months.
Thailand Visa Extension
Once you've got your Thai Visa you fly into Thailand and stay your 60 days.  At the end of 60 days instead of leaving you get a taxi to Thai Immigration in Chaeng Wattana Bangkok and pay 1900 THB ($60USD) to extend the visa for another 30 days.
So a  60 day Thai Tourist Visa is actually good for 90 days.
My Thailand Visa Run Situation Now
In order to get a new official tourist visa i've got to go to Laos or Malaysia and visit the Thai Embassy to get a new visa like the one I had from the USA.
You can only get Thailand Tourist Visa from outside Thailand.
I usually take the train from Hua Lampoung Station in Bangkok to Aranyaprathet at the Thailand Cambodian Border for 45THB ($1.50USD LOL) yes one dollar and fifty cents for a 5-6 hour train ride.  Once I get to to Arayaprathet I hire a tuk tuk to take me across the border to Poi Pet Cambodia where I exit Thailand, get a cambodian visa, shotgun a beer, turn around, and reenter Thailand with a "Visa on Arrival"
Thailand Visa on Arrival
The rules are different depending on which country you are from, but you can get a free visa on arrival to Thailand if you are from the USA.  You just show up to immigration at the border or when you get off the airplane with your passport and ask for visa on arrival.  They will stamp you in and you get a nice free 30 day visa.  This is what I usually do now when coming in from Cambodia.  Then after 30 days are up I go to Chaeng Wattana, Bangkok Immigration and extend the Visa another 30 days for 1900 baht.  So a total of 60 days in Thailand for 1900 bath and then I have to peace out across the border for 5 minutes again.
Thailand Visa Run…Crazy Shit
– the bodybuilder in thailand